Literacy opens doors | Free webinar series for the community and 
voluntary sector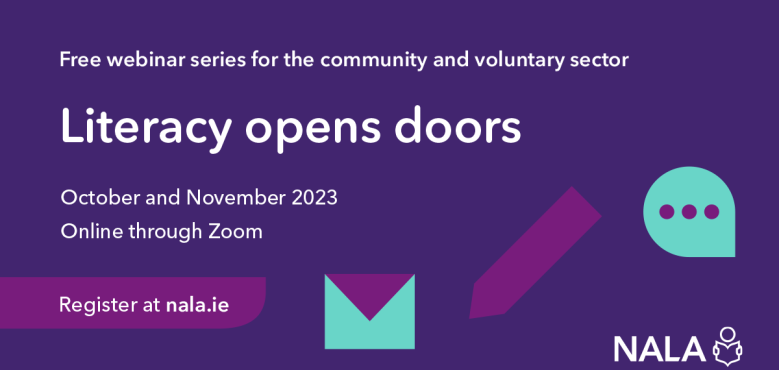 The National Adult Literacy Agency (NALA) is hosting a free four-part webinar series for people working in the community and voluntary sector.
We will discuss ways of helping communities to support people with literacy needs. The webinars will cover topics like raising literacy awareness, using literacy friendly approaches, health literacy and plain English.
If you attend all four webinars in this series you will get a NALA certificate of completion.
You can find out more details on each webinar and register at the links below.
Friday 27 October, 11am – 12pm
Webinar 1: Raising literacy awareness with people working with marginalised communities
Friday 3 November, 11am – 12pm
Webinar 2: Using a literacy friendly approach in practice
Friday 10 November, 11am – 12pm
Webinar 3: Making health literacy everyone's business
Friday 17 November, 11am – 12pm
Webinar 4: Introduction to plain English – Top tips for clear communication
For more information, contact Fergus Dolan in NALA at fdolan@nala.ie